Founded in 2011, Bushwick Campus Farm & Greenhouse is a dynamic model of sustainable urban agriculture and youth education, growing not only organic herbs and vegetables, but also bright young leaders in the food justice movement.
Bushwick Campus Farm was built with the students and staff of Bushwick Campus' four resident high schools: Academy for Environmental Leadership, Bushwick School for Social Justice, Academy of Urban Planning, and Brooklyn School for Math and Research). With their help, and the help of hundreds of volunteers, the farm has produced literally tons of fresh, healthy, organic produce for the neighborhood.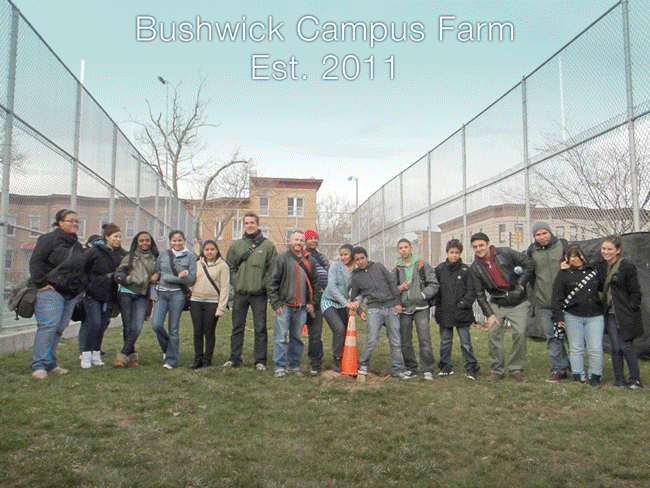 In 2012 we added a greenhouse, creating year-round, hands-on learning opportunities. Sadly, the greenhouse was severely damaged in January 2016. We hope to rebuild bigger and better!
Our urban farming courses, created for our partner schools, engage students in hands-on, experiential learning. The youth-led Food Justice Team (merged with the former Youth Food Policy Council) provide after-school programming and leadership development. The farm also hosts our Community Apprenticeship Program, immersing adults in food, farming, and community empowerment.
Bushwick Campus Farm serves not only as a living outdoor classroom for the Campus, but also as a shared community asset, hosting lively public events, and serving as an "urban ag" demonstration site for groups like Just Food's Farm School NYC and Make the Road New York's Youth Power Project. A model for other "Grow to Learn" schools (a project of GrowNYC and GreenThumb), we have also been a "Garden to Café" site. (Our healthy cooking workshops for students are very popular!) The farm has also become a popular destination for area science classes, senior centers, after-school programs, universities (including The New School and NYU), and summer camps.
---
Visits to Bushwick Campus Farm & Greenhouse
Proceeds from educational and interactive tours of Bushwick Campus Farm & Greenhouse help us to sustain and share our work.
Pricing:
$30/hr On-site visit
$1-10 per student (sliding scale, depending on scheduled activities)
Required: Signed permission slips; 1/10 teacher-to-student ratio
---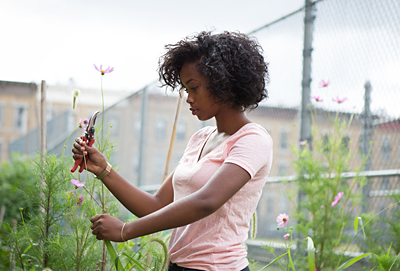 Kristina's Story
Kristina Erskine envisions a world where everyone has equal access to food. As a founding member of the Bushwick Campus Farm, she is constantly busy - conducting workshops, giving tours touring of the farm, or co-leading the Food Justice Team at her alma mater. When she is not a the farm, Kristina is sharing fresh vegetables with her family, and creating dishes inspired by her Caribbean, Indian, and Chinese heritage. At Bushwick Campus Farm, Kristina doesn't just grow food  - she grows the world she wants to exist.
Bushwick Campus Farm serves not only as a living classroom, but also as a shared community asset and popular destination for area schools and universities, senior centers, and summer camps. It's a demonstration site and model for Just Food's Farm School, Make the Road NY's Youth Power Project, and GrowNYC. Several thousand people visit come to the farm each year to grow and learn together - helping to fulfill Kristina's dream of a world where people of all backgrounds grow and prosper together.