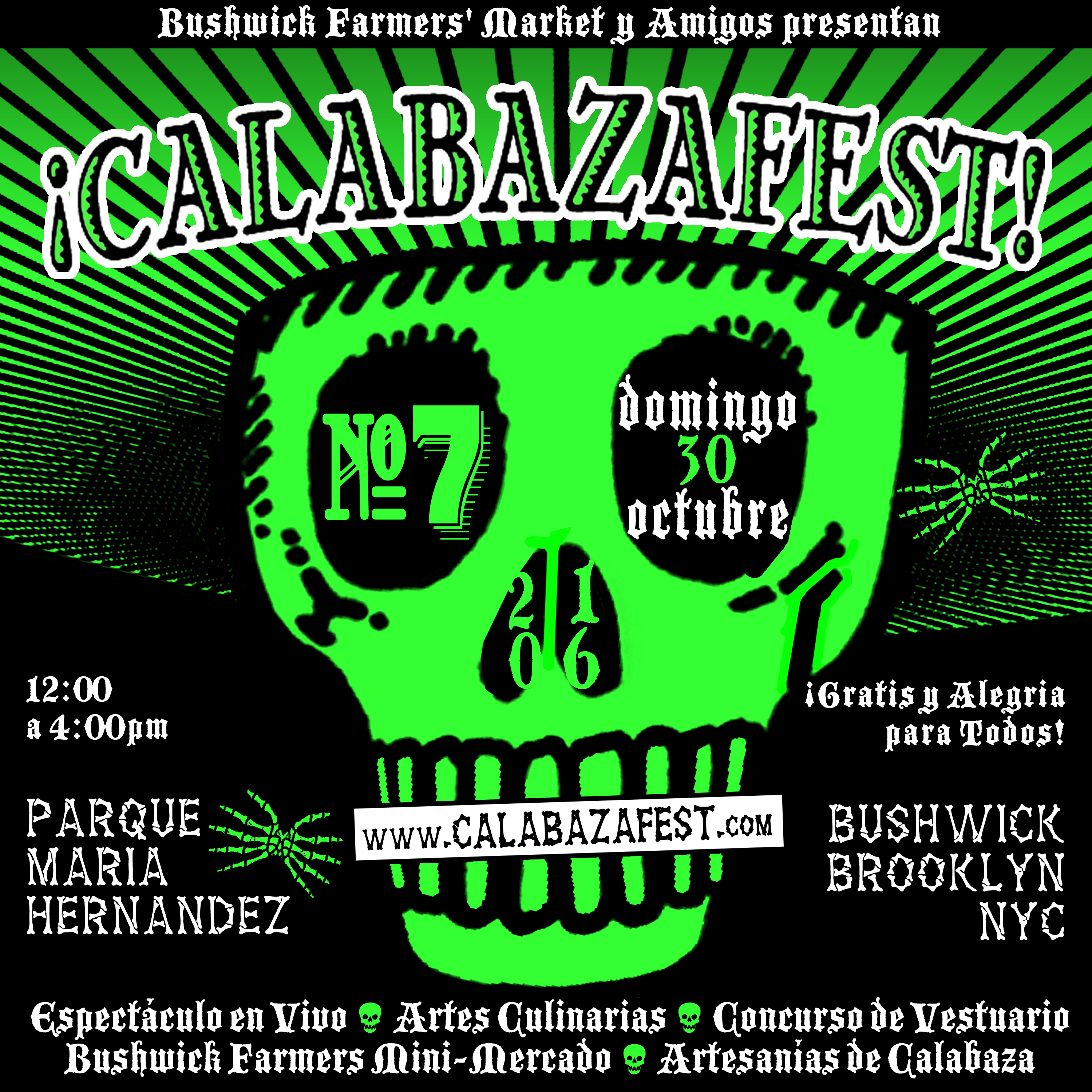 On Sunday October 30, 2016 Bushwick Farmers' Market and friends presented the seventh annual ¡CalabazaFest!, our way of thanking the community for another great season at Maria Hernandez Park. And what a day it was! It was our biggest and best ever, and we have many to thank for its success.
¡CalabazaFest! is a cross-cultural mashup not to be missed, celebrating food, culture, and community. Full details from 2016 can be found on our event site, www.CalabazaFest.com. (p.s. It's properly pronounced CA-LA-BA-SA-FEST!). 
To become a sponsor, perform, or volunteer at the next ¡CalabazaFest!,
contact event creator and designer Sean-Michael Fleming
¡CalabazFest! 2016 had fantastic entertainment, creative hands-on activities, and - in a welcome change from your average street fair - healthy food everywhere! Local tortilla factory and cantina Tortilleria Mexicana Los Hermanos and The Doe Fund's culinary crew served up tasty vittles while Just Food and EcoStation food demonstrators shared healthy seasonal recipes (featuring calabazas, of course!). RBSCC was also on hand, helping local families access crucial SNAP benefits, which our markets readily accept!

Musical Director Alvaro Paulino Jr. again booked some wonderful entertainment including his band, Mariachi Tapatio de Alvaro Paulino, blossoming starlet Ximena Roca, the charming young family trio La Dinastia Eulogio, and students of Academia de Mariachi Nuevo Amanecer.

The event would not have been complete without an appearance by Mexican heritage dance troupe Mazarte Dance Company, whose colorful costumes and exuberant energy are always a ¡CALABAZAFEST! highlight.

Pumpkins from La Baraja Farm we decorated and carved up with finesse by supervolunteers Alexandria Hodgkins and Lauren Smith and their crew. The youth team from El Puente's Bushwick Leadership Center hosted activities for the little ones and painted smiling faces. Bushwick Campus Farm was on hand to collect and recycle the organic waste - including the specially-ordered plant-based plates and utensils (and later the bales of hay and cornstalks that adorned the stage!).

This year's guest emcees, the hilarious street clowns Smiley and Martillito Burbujita kept the energy up and laughs flowing right through the costume contest finalé. Unfortunately a torrential rainstorm struck just moments after the close of the show (much to the chagrin of those who had to clean and pack up!). The stage set by our own Sean-Michael Fleming was trashed; luckily the newly-added and haunting 3-D puppets from People's Collective Arts were spared major damage.

Local businesses including Dynomighty, JournalsAndBooks.com, the Knickerbocker Avenue Party Fair, and Mesa Azteca restaurant also contributed to ¡CALABAZAFEST! 2016, generously donating prizes for the costume contest winners. Local website Bushwick Daily helped out, by spreading the word with some great event coverage!

EcoStation also wishes to thank Nancy Melissas and Emilio Llopiz of NYC Department of Parks & Recreation and the staff at Maria Hernandez Park for their help and support; and last but certainly not least we thank longtime market supporter Council Member Antonio Reynoso and the Parks Equity Initiative for making it all possible. 

If you missed this year's celebration, mark you calendar now for ¡CALABAZAFEST! 2017 – see you there!