This year, after eight wonderful seasons, EcoStation will be passing the Bushwick Farmers Market torch to Ridgewood Bushwick Senior Citizens Council and their "Bushwick Cooks" team. Many exciting changes are afoot! EcoStation will be sticking around to help ensure this invaluable community asset flourishes in their very capable hands.
MORE MARKETS! Two new market sites are opening, including a Friday night market, totaling three weekly markets! And, they are opening earlier than ever, beginning Thursday, May 18 with a series of plant sales! Full schedule below.
CALLING ALL VENDORS! New vendors are welcome and needed to join the market lineup(s) - and new, discounted season packages are available! More details below and on the RBSCC website; for an application, reach out to your new market manager, Ali Toxtli. First-time vendors welcome!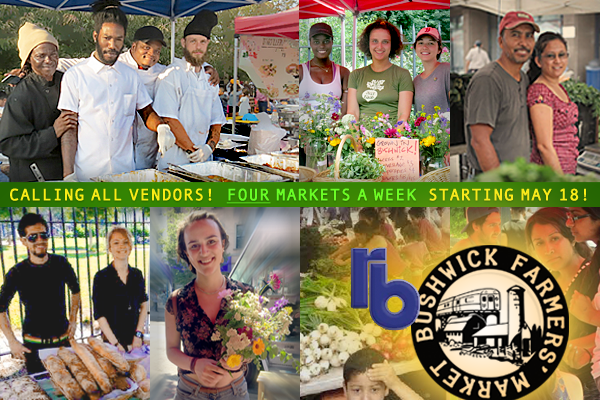 Bushwick Farmers Market 2017
Times & Locations

 

PLANT SALE ONLY
Thursday May 18
Ridgewood Bushwick Youth Center Market
Thursdays,  4:00pm - 7:00pm
1474 Gates Avenue

Opening Friday May 19
New! Night Market
Fridays, 6:00pm - 10:00pm
434 Troutman Street

Returning Saturday May 20
Bushwick Farmers Market
at Maria Hernandez Park
Saturdays, 10:00am - 4:00pm
Knickerbocker Ave @ Starr Street

Opening Sunday May 21
New! RB Farmers Market at Rheingold
Sundays, 10:00am - 4:00pm
553 Bushwick Avenue
Thinking About Becoming a Bushwick Farmers Market Vendor?

The markets will be pushing the envelope this year, with an extended season, more locations, and new, money-saving season vendor discount packages. We are looking for farmers, local food makers, entrepreneurs, small businesses, and community-based organizations to join the market and infuse the 2017 season with new energy and excitement!
Over the years, Bushwick Farmers Market has established itself as a great way for artisans, businesses, and CBOs to get some invaluable "face time" with customers. It is a springboard for local food business startups and other entrepreneurs, with a welcoming and supportive environment, and friendly rates. One returning vendor recently told us, "Thanks for all your help last year. You couldn't have been more accommodating!"
For more information and a vendor application, see the RBSCC website or reach out to your new market manager, Ali Toxtli via email at [email protected] or by calling (862) 249-5672. First-timers welcome. ¡Hablamos Español!
Here are just a few of Bushwick Farmers Market's
happy (non-farmer) vendors, past and present:
Fog City Sundries • Dishes by Doe • Green Mountain Energy • Bushwick Food Coop • Inti Quinoa
Tommy Joe Coffee • Bee Good • Brewklyn Coffee Roasters • Sweet Spice & Honey
About Bushwick Cooks
Bushwick Cooks is a holistic community health and nutrition initiative of Ridgewood Bushwick Senior Citizens Council (RBSCC), one of New York City's largest multi-service nonprofits serving youth, seniors, veterans, and families, with extensive reach into the community with housing, education, and social service programs. EcoStation is happy to be leaving the market in such good care! 
---