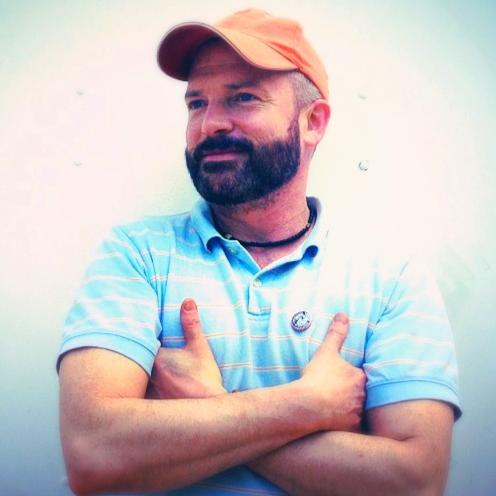 Sean-Michael Fleming
Co-Founder, Executive Director

Sean is an artist, graphic designer, and writer who decided "to use his powers for good." He serves as the organization's creative force, designing their myriad promotional materials including two websites, an e-newsletter, special event posters. He has a deep love and concern for the natural world, and believes sustainable urban agriculture is the key to fostering important discussions in urban neighborhoods about the relationship between environmental and human health.
He is a co-founder and board member of New York Buyers' Club (NYBC), a nonprofit organization dedicated to improving consumer access to and awareness of complementary and alternative therapies for people with HIV/AIDS. As a graphic and web designer, he has worked with diverse groups, including NYBC, American Community Gardening Association, Great Small Works/International Toy Theater Festival, Bindlestiff Family Cirkus, New York City Community Garden Coalition (NYCCGC), and what is now Gay City News, where he spent five years as Art Director and contributing editor. He recently served three years as a member of NYCCGC's Board of Directors, helping produce and increase attendance at public events, and rebranding their corporate identity. Sean has served as director of the Woodbine Street Block Association Garden for the past eight years.
Sean is a 18-year resident of Bushwick, where he lives with his fiancé and partnerer of 11 years, and their cat, BiRD.
---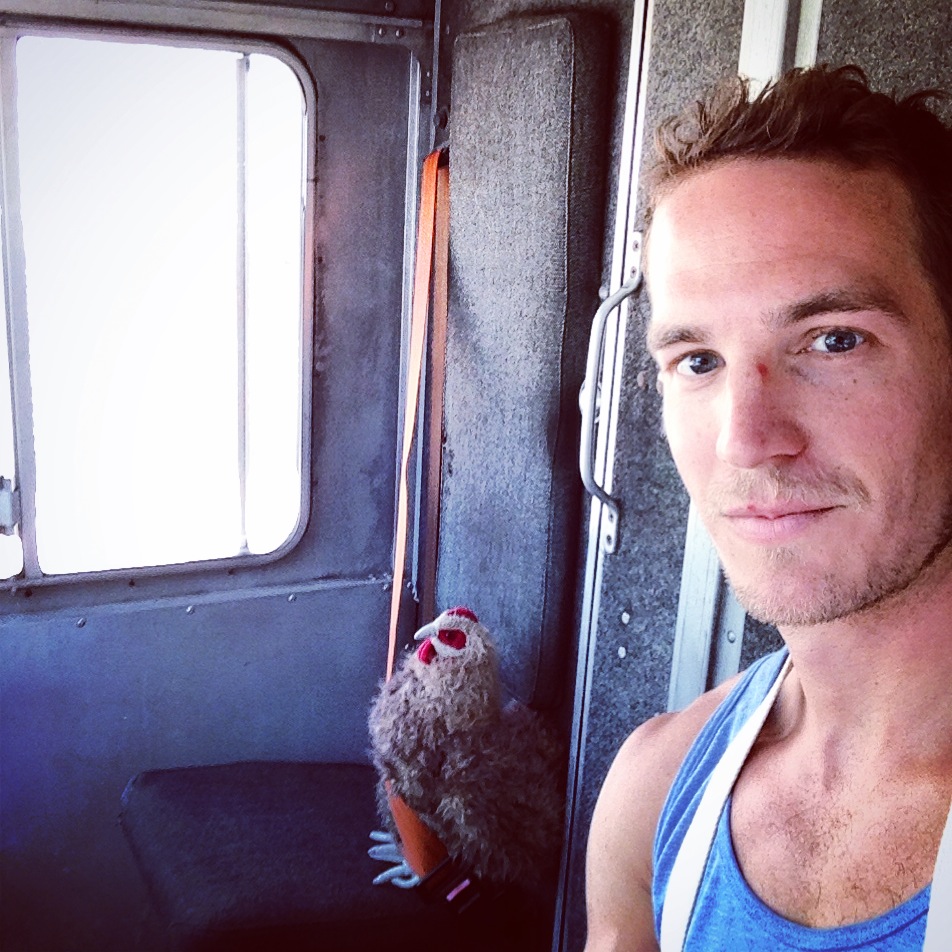 Travis Tench
Co-Founder, Director of Markets

Travis is a food activist, bilingual educator, and musician. Travis oversees operations at EcoStation's Bushwick Farmers' Markets, and has guided its growth from one market, one day a week, to four markets, four days a week. He also teaches market management to other community organizations and helps oversee summer youth over the course of the season.
His semi-nomadic upbringing in upstate New York, Pennsylvania, New Hampshire, and Kentucky among a family of avid gardeners, composters, canners, chefs, and picklers, helped to forge the love for food and the natural world that is so much a part of him today. As an adult, Travis has continued to travel, working as an ESL (English as a Second Language) teacher, writer, editor, and musician. Following a three-year stint in México, he made his way to Brooklyn and began working in the Bushwick community for Brooklyn Center for the Urban Environment, helping residents reconnect with their food and the people who grow it. He is an active member and soloist in the activist gospel choir Reverend Billy and The Church of Stop Shopping, as well as the lead composer and frontman for Handsome Man Band.
---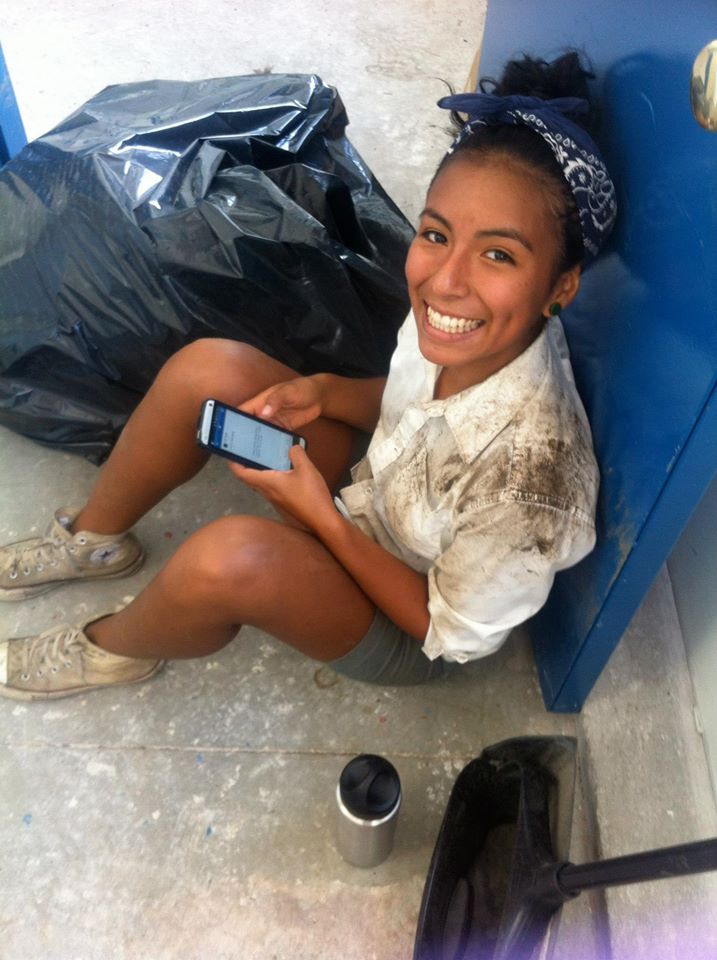 Glenda Ullauri
Farm Manager and School Liaison, Bushwick Campus Farm

Glenda comes from an academic background in anthropology, researching indigenous agricultural technologies and food sovereignty movements in Latin America. However, Glenda decided to change her focus to answer many of the issues that were happening around her, right here in NYC. Glenda is exploring food justice as a platform to address and organize around different anti-oppression struggles. Her work focuses on youth programming and school partnerships. Glenda is passionate about leading circle discussion and activities that reclaim health as a culturally relevant process and is looking forward to expanding discussions surrounding decolonized diets as a way to rekindle our cultural heritage and connection to farming.
---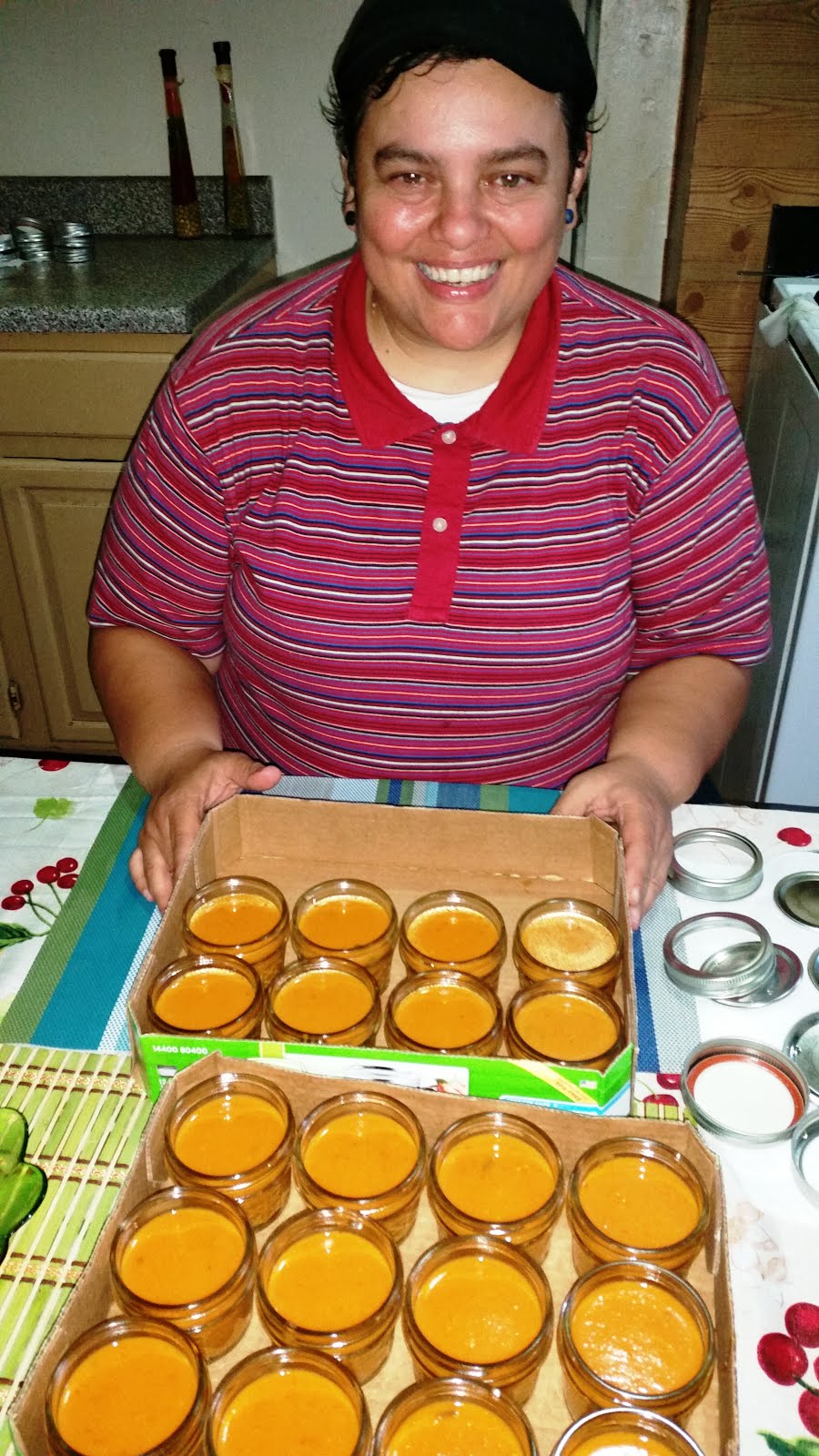 Ana Moran
Co-Manager, Farm-In-The-Sky
and Grove Farm (a joint project with Make the Road NY)

Ana is an incredibly passionate food justice activist. Originally from Guatemala, she has worked in various points along the food chain, including food vendor, restaurant worker (from dishwasher to cook), farmer, entrepreneur. Ana is deeply connected to the intersections among food, immigration and culture . As a former Health Advocate with Make the Road New York she was the point person for MRNY's first community farm, Grove Farm, where in collaboration with EcoStation, she was able to facilitate with MRNY members in urban farming and carpentry. All the food from their farm went to MRNY's food pantry on Fridays and families from the neighborhood use the farm as a space to grow food together and plan for food sovereignty. Ana manages the Grove Farm and Farm-In-the-Sky site, and sustainable business models with our new "Green Machine." She is excited to test alternative added value marketing techniques to better support urban farmers financially.
---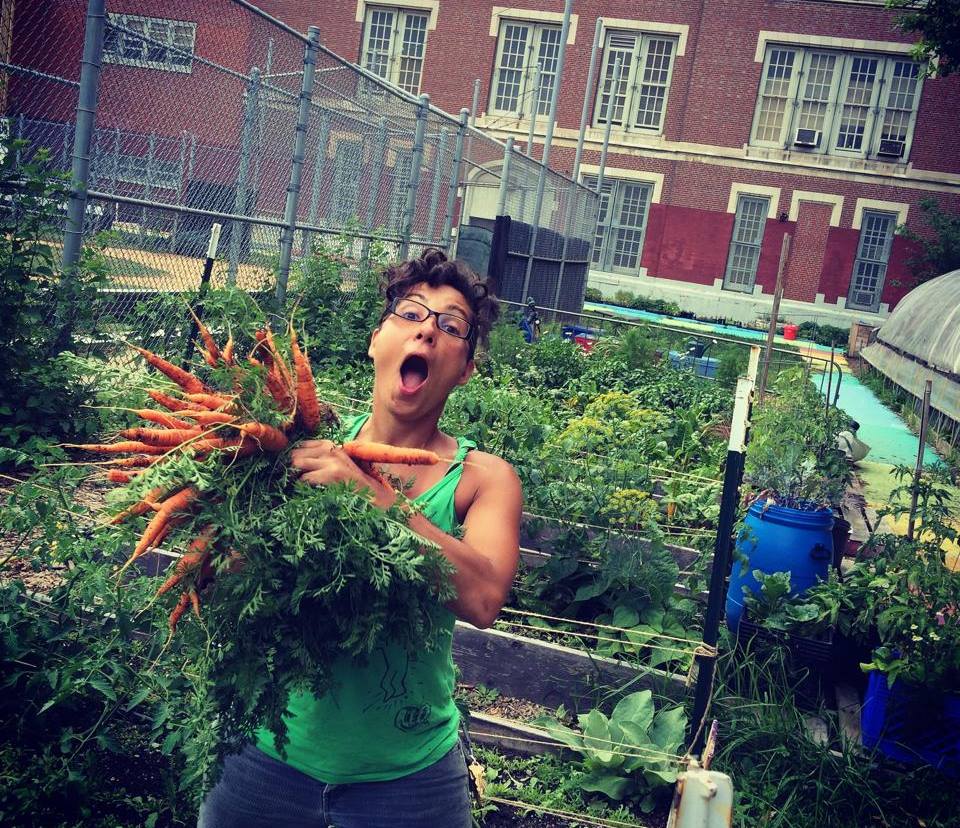 D. Rooney
Co-Manager, Farm-In-The-Sky

D's focus on the farm has been Food Justice, youth programing and carpentry. Her passion for education and justice helped steer the organization and apprenticeship experience with the implementation of two important trainings for the Bushwick Community: the three day Anti-Oppression /Food Justice Workshop and the two day Training of Trainers workshop. An experienced carpenter, cook, and Farm School NYC Certificate student, D has her hands in it all! You can also find her teaching the beginner carpentry courses with EcoStation:NY through Kingsborough Community College's urban farming continuing education program. D also helped run the Farm-In-The-Sky in 2012, and was our resident Beekeeper on the roof. You will see D. once again involved will the youth program and Farm-In-The-Sky, located at the Mayday Building on 214 Starr Street.

---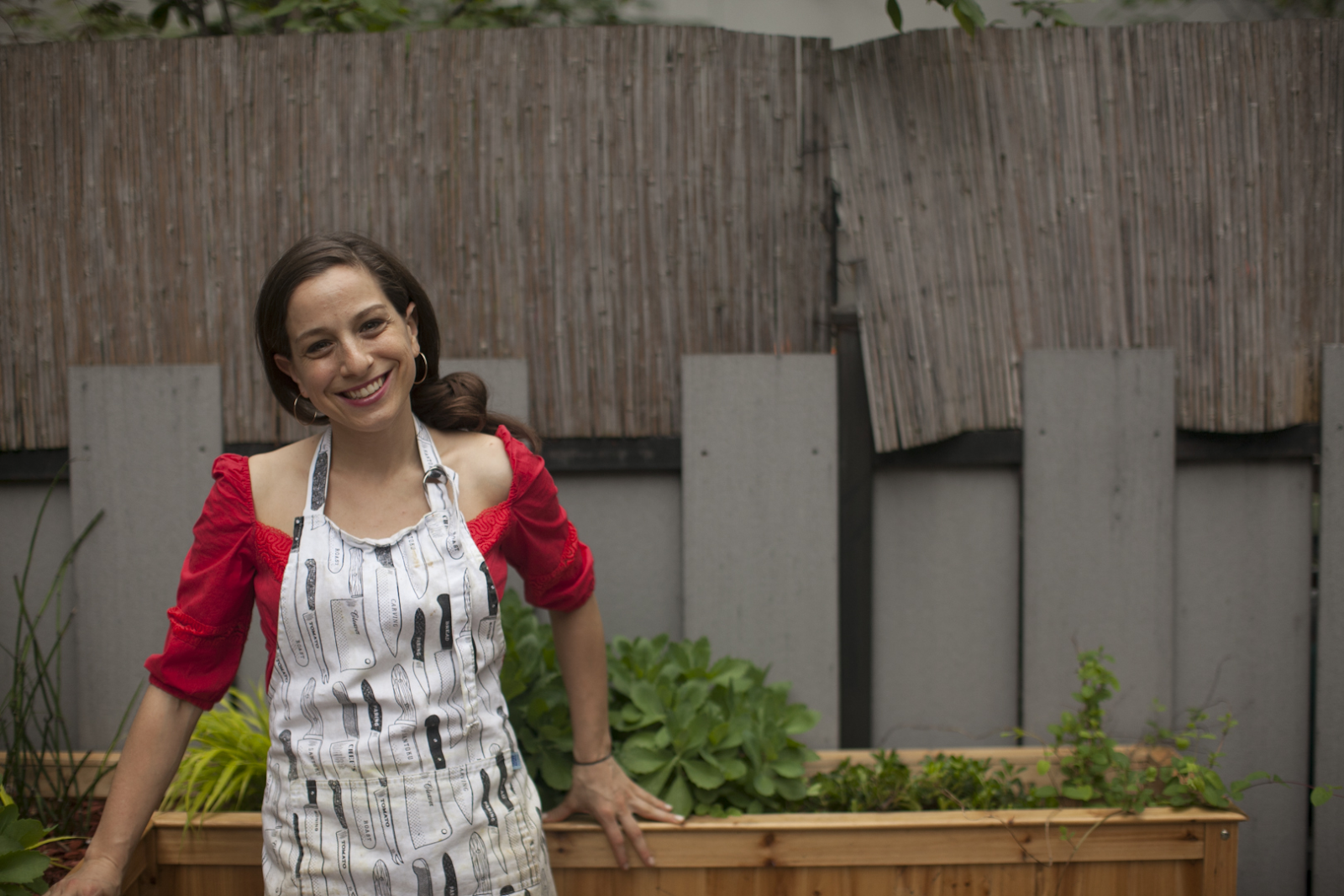 Annie Berger
Development Consultant

Annie joins EcoStation:New York from the Rainforest Alliance, a global environmental non-profit, where she spent several years working in donor communications and fundraising. After focusing on international agriculture, Annie is now excited to address local issues and affect change in her neighborhood. As a professionally trained chef, Annie is passionate about food and where it comes from - through EcoStation, Annie hopes to advance urban agriculture and food justice, while empowering young locavores. Originally from Bethesda, MD, Annie is now a resident of Brooklyn where she lives with her partner and their lovable mutt, Ella, who helps Annie eat and plant her way through the borough.
---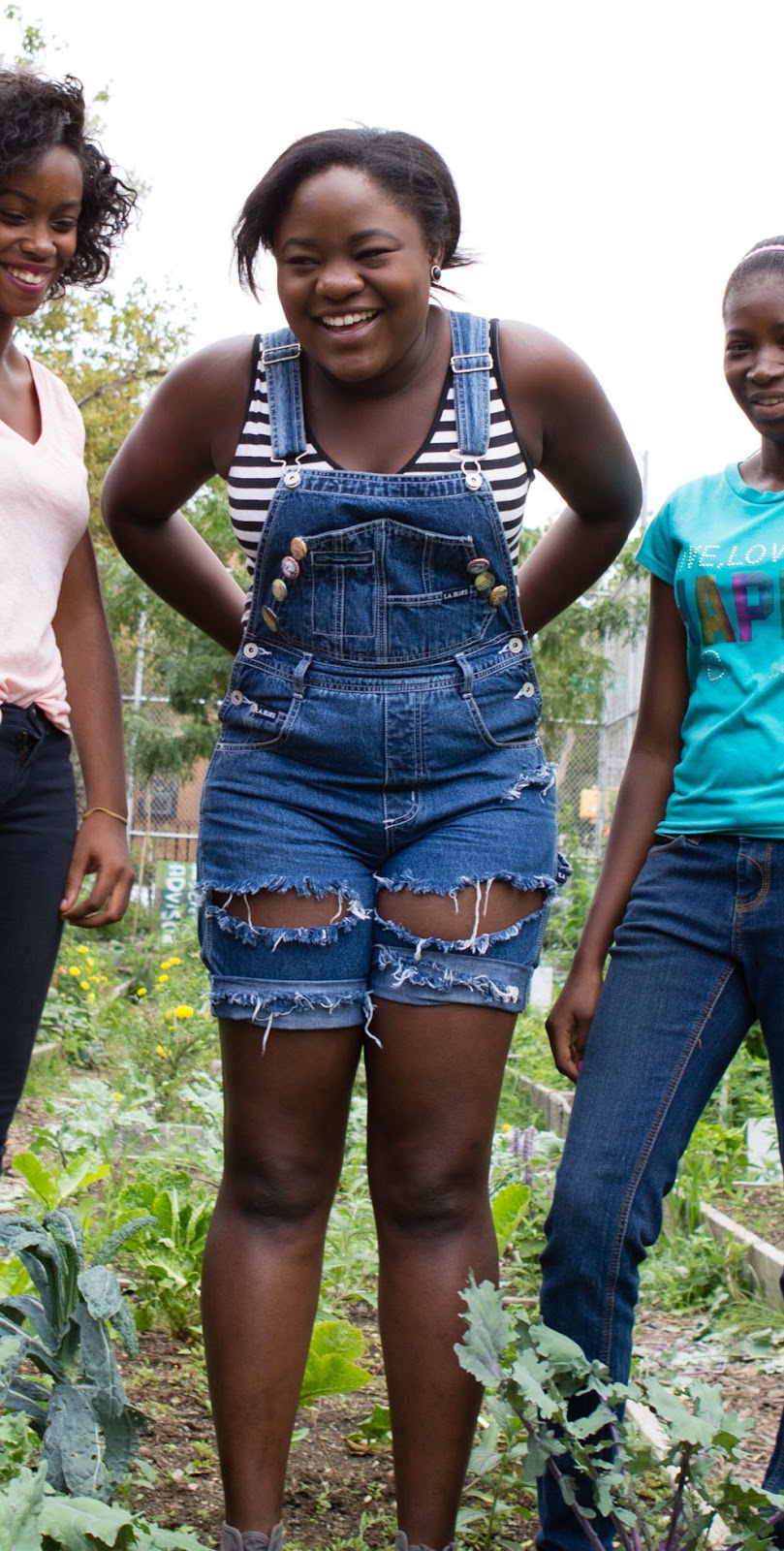 Iyeshima Harris
Assistant Farm Manager, Bushwick Campus Farm and Farm-In-The-Sky
Iyeshima became involved with EcoStation as a freshman in high school and helped to build Bushwick Campus Farm. Currently a freshman at York College, Iyeshima dreams of being a successful biomedical research scientist, so she can give back to the hands that fed her. Furthermore, the farm helps Iyeshima feel connected to nature - something she struggled with since moving to the city from her native Jamaica. Throughout the past four years with EcoStation, Iyeshima has grown tremendously. She is passionate about educating her peers on food justice and its importance. She is now the Co-Manager for both Bushwick Campus Farm and Farm in the Sky. In addition, she has done a tramendous ammount of work on the Lunch4Learning campaign run in partnership with Community Food Advocates and ESNY's Bushwick Campus Youth Food Policy Council.

---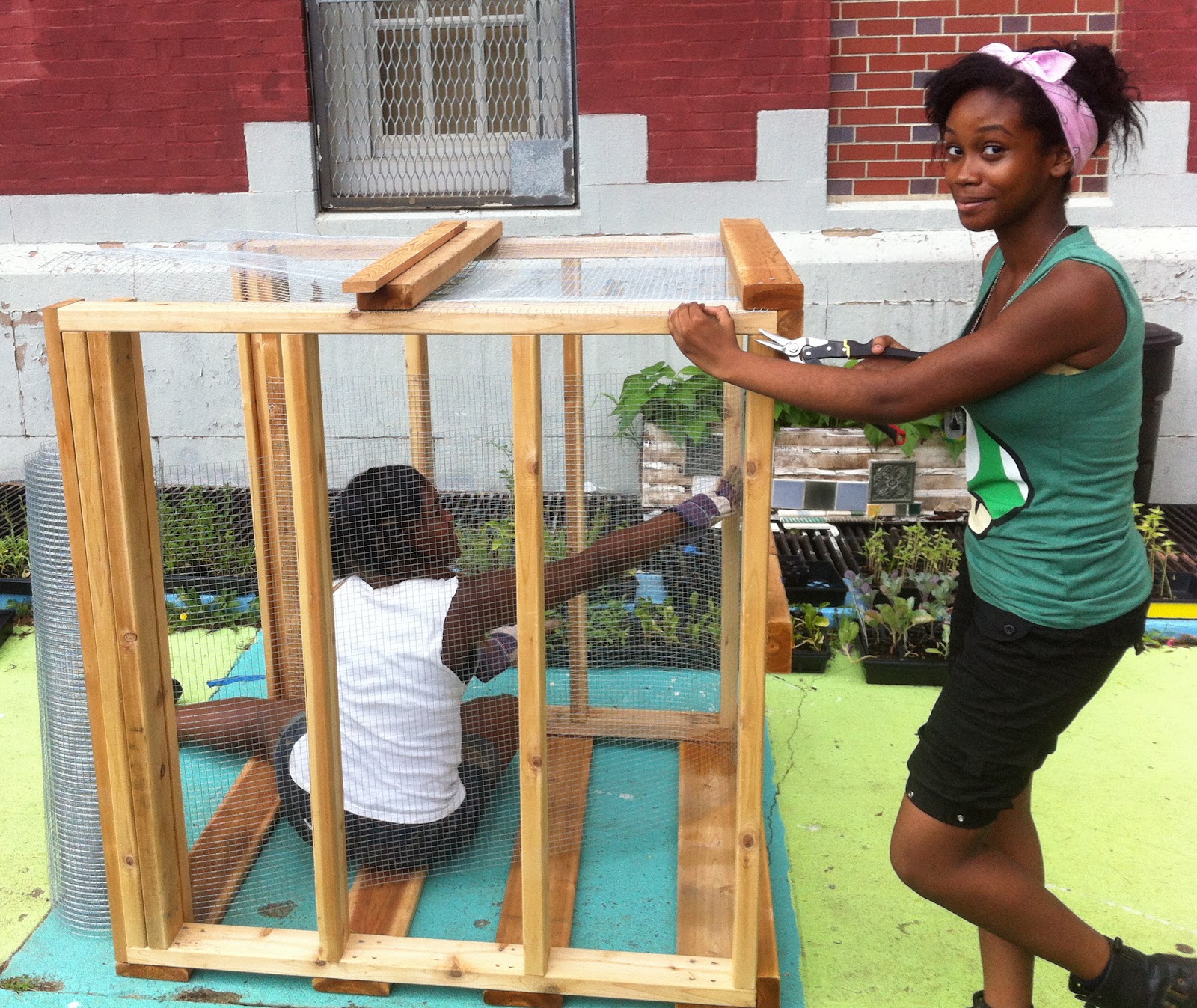 Kristina Erskine
Assistant Farm Manager, Farm-In-The-Sky;
Co-Manager, Bushwick Campus Youth Food Policy Council
Kristina is a writer and an activist. She envisions a world where everyone has equal access to food. On the Campus Farm, Kristina doesn't just grow food - she grows the world she wants to exist. She is constantly busy,conducting workshops, touring people around the farm or planting flowers at a senior center; she collaborates with anyone and everyone. Kristina loves sharing fresh vegetables with her family and creating dishes inspired by her family's Caribbean, Indian, and Chinese heritage. Kristina is a freshman at Medgar Evers studying environmental justice and creative writing. See co-manages both the Bushwick Campus Youth Food Policy Council and Farm-In-The-Sky.
---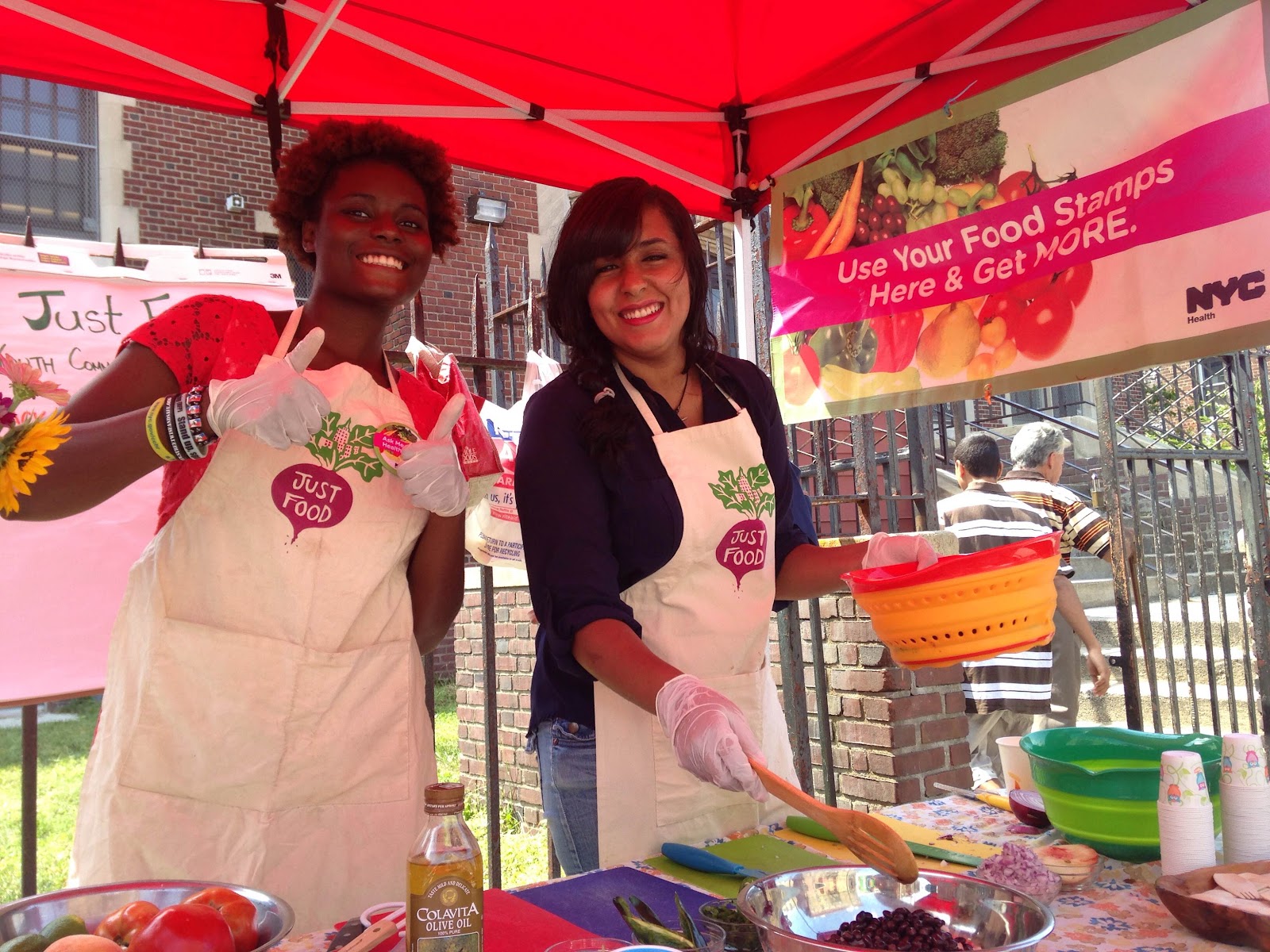 Benia Darius
Co-Manager, Bushwick Campus Youth Food Policy Council;
Just Food Community Chef

Benia (left) believes that food is a right of all people. She believes food is something that belongs to all of us and is especially important to connecting with our roots. She also believes that growing ones own food is powerful and it sets us free in many ways, through food we are all related so we should not allow people to exploit the people who are doing the growing. Born in Haiti and raised in the U.S., Benia is a model student. Smart and outgoing, she is the spokesperson for a number of student social justice organizations and has lobbied many politicians on numerous social, educational, and health justice actions. Despite her full schedule, Benia still finds time to do what she loves: cook. A kale aficionado, Benia is a huge advocate for seasonal eating and loves to show others how to prepare her favorite dishes. She has been an assistant manager at Bushwick Farmers' Market for two years, and is a certified Just Food Community Chef. Benia now attends the College of Staten Island.
Genesis Rodriguez
Community Chef, Community Apprentice

Genesis (right) is a recent graduate of the Bushwick School for Social Justice, one of the four schools of Bushwick Campus. A veteran at the Farm, she was one of the founders, and has spent three summers in our Food Justice Internship, which in the beginning was organized with Green Guerilla's Youth Tillers Program. Additionally, she worked with Make The Road NY's Youth Power Project Team for a summer. Genesis was also a graduate of the pilot year of NYC's first youth food council, "Flip the Table", a year long training program for 20 youth across NYC. Genesis is also a trained Just Food Community Chef at our markets, and specializes in kale salads and fresh-pressed juices. In addition to selling honey at our farmers' market, she has a soft spot for harvesting and working at the roof top sites. A vegetarian for eight years, she knows all there is to know about using good veggies. Additionally, she was awarded an academic scholarship for her work at the farm through the Hesus Fund. Genesis aspires to be a Veterinarian when she is older. She is currently a sophomore at Kingsborough Community College.
---

Maggie Cheney
Director of Farms and Education,
EcoStation Board of Directors

Maggie grew up growing food, loving food, and wanting to share her knowledge with others. She is the daughter of Ward Cheney, an organic farmer and founder of The Food Project, in Boston, MA. She has spent eight years teaching agriculture to youth and adults and as a full time farmer in different parts of the country. Maggie helped found many of the educational and food justice programs of the Bushwick Campus Farm and Farm-In-The-Sky. She is currently excited about collaborating with other activists and students from across New York City, in the formation of the city's first youth led Youth Food Policy Coalition, based on her students work for the Lunch4Learning campaign for universal free school lunch last spring. Much of the reach and scope of EcoStation's work is made possible through key partnerships with local organizations that Maggie helped solidify over the last three years such as Make The Road New York, Community Food Advocates, Just Food, and El Puente. She also teaches two courses in urban agriculture, Advanced Crop Planning and Irrigation, to adult certificate students in Farm School NYC, a project of Just Food.
---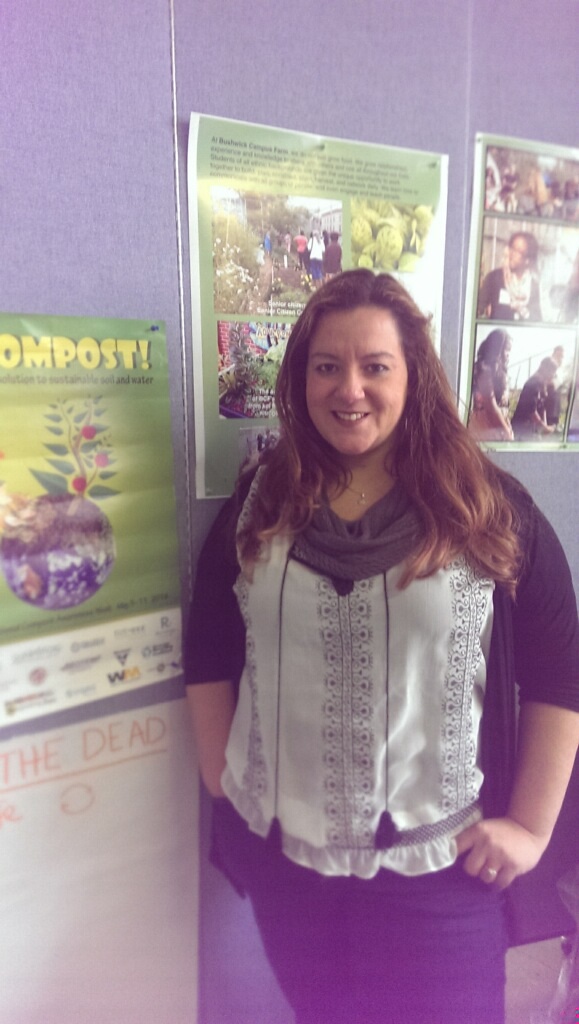 Gualesca Rodriguez
Food Justice Team Intern

Gualesca Rodriguez is a Hunter MSW 2nd year student, interning at Make the Road New York. MRNY and EcoStation: NY work in partnership at the Bushwick campus which has made it easy for Gualesca to explore social work and urban farming at the school. Gualesca's main concerns are the visibility of the farm not only at the school but also in the student's lives and works specifically with the Food Justice Team and supporting farm manager Glenda Ullauri in her role as school liaison. Gualesca is from Puerto Rico where her family has land and is excited to put what she will be learning from this farming experience to use when she returns.