Located on the grounds of the Linden-Bushwick Community Garden (Linden St. & Broadway, Brooklyn, New York), The Secret Garden Farm & Nature Preserve is a new, small, organic urban farm and environmental education center. SGF&NP, along with Bushwick Farmers' Market, are projects of EcoStation: NY.
To volunteer or arrange for a group tour, please call 646-393-9305 or email Sean (at) EcoStationNY.org.

ACTIVITIES & ARCHIVES
2007-2010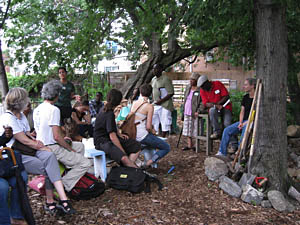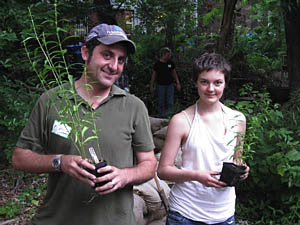 Native Plant Workshop @ Secret Garden Nature Preserve
Wednesday, July 14 , 2010
Join EcoStation: Bushwick!, Brooklyn Botanic Garden's GreenBridge Community Garden Alliance, and Toadshade Wildflower Farm
for a fun & informative workshop on Native Plants at the Secret Garden Nature Preserve,
part of the Linden-Bushwick Community Garden.
We will be discussing the native and invasive species found there, and replanting with some hand-selected
species to enhance this evolving outdoor classroom.
– THURSDAY APRIL 22, 2010 –

SECRET GARDEN EARTH DAY SUNRISE SUMMIT 6:07am
for Educators & Community Leaders
The Secret Garden Farm & Nature Preserve
@ the Linden-Bushwick Community Garden
Located at the corner of Linden St & Broadway - Bushwick, Brooklyn [map]
Camp-style breakfast & live music • Ritual turning of the compost by Earth Matter NY
Presentation @ 7:00am sharp!

RSVP:

[email protected]

or call 646-393-9305

Spring 2010: Secret Garden Farm starting to take shape, thanks to Green Guerillas
and the able-bodied students of Lyons Community School's Urban Workshop!
Fall 2009: Earth Matter, a new organization dedicated to the art & science of composting,
has recently moved in to a discreet corner of the wildlife area, and is nearing completion of a
4-bin composting system, as well as leaf storage units to hold the yield from upcoming leaf collection events
(a pro-active reaction to NYC's decision to cut composting from their budget in 2009).
The resulting compost will be used for bio-remediation in the nature preserve and to help crops grow
in the vegetable garden, which in 2010 will be registered as an urban farm, enabling us
to now sell vegetables grown here at our weekly farmers market!
Want to get involved?!
EcoStation Bushwick! Wildlife Alert


This season, several warblers, a Ruby-crowned Kinglet, a Hermit Thrush, an Eastern Kingbird, a Yellow-bellied Sapsucker, and an Ameican Kestrel have all been spotted at the Secret Garden Farm and Nature Preserve!


This is obviously an important habitat and known stopover point for many migrating birds – and worth preserving!
Young assitants from Hope Gardens Community Center assist EcoStation's Sean-Michael Fleming.
adding bird-friendly plants to the newly-established nature preserve
in August 2008 as part of Celebrate Urban Birds! day activities.

The Secret Garden Farm & Nature Preserve
@ Linden-Bushwick Community Garden
(corner of Linden St. & Broadway, Bushwick, Brooklyn)
Getting here: J Train to Gates Ave; B52 Bus to Gates & Broadway
July 2008
JUMP IN! TUESDAYS IN JULY!
Tuesdays, July 1st thru 29th - 9am to 4pm
Get in on this urban renewal project as we transform an abused mini-forest
into a wildlife sanctuary and outdoor classroom!
Green Apple Corps and EcoStation:Bushwick
for big fun work days in Buswick's own "great outdoors"!
We are making a push to complete the cleanup phase of this project in July,
so that we can begin repopulating the wild area with native, bird-attracting plants!
Tools, gloves, and water provided - just show up ready to get dirty.
Need more info? Email us.
Please note: Minors (under 18) must be accompanied by a guardian or a
signed consent form, available at the garden and right here too
ACORN HS / One to World / EcoStation:Bushwick / American Parks Network / Canon USA
June 14, 2008 Cleanup Follow-Up:
Many, many thanks to the staff & students of ACORN High School for Social Justice,
One To World's staff and international grad students,
and to our very kind sponsors, American Parks Network and Canon USA,
who purchased a new garden shed (the old, mooldy one was demolished in grand style),
and provided a great lunch and nifty water bottles for participants!
We got a lot done and had a great time doing it! Cheers, everyone!
JOIN THE GREEN REVOLUTION!
Saturday June 14, 2008 - 10am to 4pm
A cleanup event with the staff & students of ACORN High School for Social Justice, the Green Apple Corps,
and One to World's international graduate students - all coming together to help restore this unique, forested urban oasis.
Community gardeners welcome, too! RSVP by Thur 6/12!
Our generous sponsors, American Parks Network and Canon USA
will be providing gloves, water bottles, coffee, and lunch (as well as a new garden shed!)-
and the day culminates with a celebratory cookout!
Dress to get dirty and prepare to have some fun in the great outdoors - right in the middle of Bushwick!
GET DIRTY Saturday April 12, 2008 • 10am - 4pm
Join New York Cares, Green Guerillas, and concerned neighbors for
Hands on New York Day - another big cleanup event for the Linden-Bushwick Community Garden
(home of the Secret Garden), a massive garden and mini nature preserve currently under renovation
and in need of an army of compassion! Dress for mess!
Linden-Bushwick Community Garden
corner of Linden St. & Broadway, Bushwick, Brooklyn
Getting here: J Train to Gates Ave; B52 Bus to Gates & Broadway

This garden was recently paid a visit by GreenThumb's Land Restoration Project.
Those guys mean business! They replaced a wonky ramp with one capable of suporting
a small tractor - which is exactly what it will be doing when they return in late April!
The gardeners here are looking to organize and run a farmer's market and welcome help
managing both the garden and the project. Interested and/or experienced? Contact us.
In the Secret Garden also lies the potential of a mini mini nature preserve:
this project will include restoring native plants and protecting a "wild area" that
attracts warblers and woodpeckers, among others. Interested in getting involved? Email me.
Want to help recruit hands for this event? Click here to download
a full-size image of the above poster, print, and post!
Secret Garden Activity Archives
Announcing a major greening event in Bushwick on Saturday, October 27 for all those interested in a cleaner, greener future for Brooklyn and the world.
Volunteers are needed to help transform a lot glutted with trash into an urban oasis for all to enjoy. This is but the beginning of a Very Large Project. You've really got to see it to believe it - it's awesome.
We are intent on drafting a small army of volunteers (YOU?) and reclaiming the massive (19,000 square feet!) neglected and overgrown open space as part of national Make A Difference Day.
Please join us – and help us spread the word about this amazing project!


Below are the poster and press release for the event. Please feel free to print, post, and share this information.
Clicking them will open up printer-friendly, full-res PDF files for printing.

Best regards,
Sean-Michael


––––––––––––––––––––––––––––––––––––––––––––––––––
Make A Difference Day in Bushwick!
Saturday October 27, 2007 • 10am - 6pm
The Secret Garden
at Linden-Bushwick Community Garden
(corner of Linden St & Broadway - Bushwick, Brooklyn)
Directions: J Train to Gates Ave + B52 Bus to Gates & Broadway
are both 1 block away
Notes: Volunteers need not pre-register, just show up ready to work & get dirty!
Gloves, refreshments provided. Not recommended for young children.

For more information - or if you're organizing a group -
contact Mr. Cyril Joseph: 917-442-2713 or myself,
Sean-Michael Fleming: 646-393-9305 or via email: [email protected]
––––––––––––––––––––––––––––––––––––––––––––––––––
*Make A Difference Day, the largest national day of helping others, is sponsored by USA WEEKEND Magazine and its 600 carrier newspapers. Make A Difference Day is held in partnership with the Points of Light Foundation and is supported by the Newman?s Own Foundation, which provides $10,000 donations to the charities of each of 10 national honorees. The 17th Make A Difference Day is Saturday, Oct. 27, 2007.

The Linden-Bushwick Community Garden was founded in the mid-1970s, when the city turned a vacant parcel of land (the interior, a.k.a. "Secret" garden) over to the care of the block association. It has been used to grow vegetables ever since. The corner lot came later, after the civil unrest and ensuing fires that swept though Bushwick following the great blackout of 1977.

The building that stood in this corner spot burned to the ground; after this, the area was used as a dumping ground by many thoughtless individuals. The block association stepped up to the challenge, and with GreenThumb's help, cleared the lot of garbage and even abandoned cars - and turned it into a community garden.

Instrumental in all this has been Mrs. Avellar Hansley, stalwart Community President, who still gardens to this day. Many others were there in the beginning as well, including Mr.. & Mrs. Willard Watts, Mrs. Lillian Thompson, Audrey Simmons, and Mary Bradford. Also greatly deserving of credit is the Adipietro family, owners of the adjacent Krown Hardware store and the property on which the gardens sit: they have supported the garden and the neighborhood through thick and thin.

Now the garden again stands at a critical juncture: plans are underway to once again make the space an attractive and inviting garden, establish a farmer's market to provide fresh, nutritious vegetables to local residents, and to restore the "wild" section at the far end of the interior garden, which has also repeatedly been used as a dumping ground by area construction crews. This section is a veritable miniature nature preserve, as it has never been built upon and attracts many varieties of birds.

The Linden-Bushwick Community Garden needs your help! Volunteers are now being sought to assist in many areas, from general garden maintenance, to flower and vegetable gardening, to restoring the "wild" area, to helping organize and run community events.
Ramp entrance to Secret Garden - Fall 2007

Ramp entrance to Secret Garden - Summer 2008
When Mr Cyril Joseph first showed me what would become known as the Secret Garden, my jaw dropped. A woodpecker flew by - and then I spotted a small bird (a least flycatcher, actually). I was in love. It is a massive open space but, tucked into the middle of a residential urban block in Bushwick, Brooklyn, almost undetectable from the street. This near invisibility - and the wonder and excitement it stirred in me - is why I dubbed it The Secret Garden.
It was the fall of 2007, and I had stopped in to the Linden-Bushwick Community Garden (home of The Secret Garden) to thank whomever had begun to tackle this overgrown and sadly neglected garden. At the tiime, I was (and still am) busy with my "own" garden, the Woodbine Street Community Garden where I serve as Director, but after bieng shown the hidden inner garden couldn't bear to see its beauty and potential go to waste, and so set about making use of the information I had gathered and contacts I had established the previous year while helping revive the garden on Woodbine Street.
The objective of The Secret Garden Project is to restore this unique parcel of land, which by an unique clause in the property's deed must be maintained as "open space." Interestingly, part of the land was once used as a horse paddock by children of the Schaeffer (beer company) family, and according to the oldest maps I've found, none of it has ever been built upon.
The Secret Garden includes an expansive vegetable garden, and a "wild area." While industrious gardeners have made quick work of the available gardening space, the wild area is a bigger project: it had been dumped on for years by area construction crews and unthinking neighbors. Currently being cleaned up and rid of invasive plants, the space will be repopulated with true "natives" - with an emphasis on bird-attracting plantings, of course.
The list of participants to date include GreenThumb and their Land Restoration Project, New York Cares, Green Guerillas, One to World, Acorn High School for Social Justice, Council on the Environment of New York City, and American Parks Network and their generous sponsor, Canon USA. All are deserving of many thanks.
As The Secret Garden Project continues, more volunteers and support are needed! Phase One: The Cleanup - is nearing completion; now the arduous but exciting task of replanting lies ahead!
EcoStation:Bushwick is a project started in 2007 by Brooklyn resident and artist/designer Sean-Michael Fleming to promote awareness of and care for the environment through direct interaction with it. It began with educational tours of the Woodbine Street Community Garden, offered to area youth and also those attending Hope Gardens Community Center's Summer Camp. The tours, which are being offered again this year, touch on a number of "green" topics - from plant biodiversity and garden flora and fauna, to recycling & composting.
These garden tours end with individual, take-home plantings, and the taking of an oath to protect the environment - for which participants receive a "Friend of the Garden, Friend of The Earth" button and certificate.
Earth Day @ Hope Gardens has become an annual EcoStation:Bushwick event, produced with the aid of local volunteers, and various greening groups. It is a day of workshops and healthy food at NYC Housing Authority's Hope Gardens Community Center.
EcoStation:Bushwick projects have also grown to include organizing the Secret Garden Project at the Linden-Bushwick Community Garden, where the efforts of many public and private organizations have contibuted to the revitalization of a community garden and the restoration of a natural wildlife area.